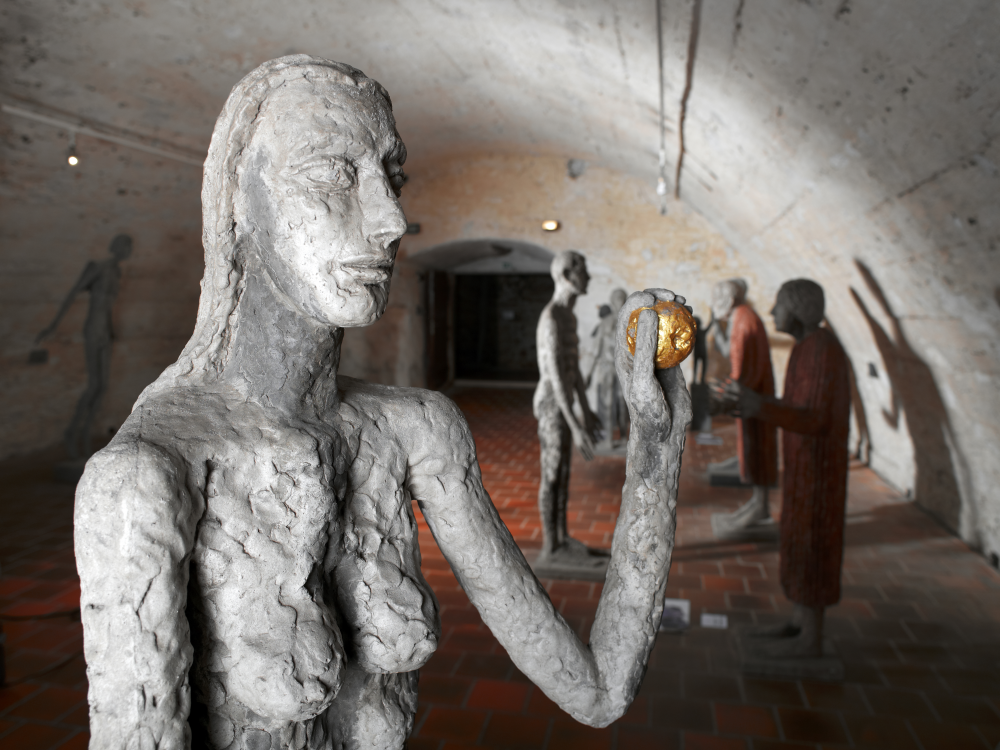 The extensive cellars of Litomyšl Castle, a UNESCO World Heritage site, are an exclusive space with a distinguished atmosphere, offering relaxation and unwinding of thoughts from everyday business. Thanks to the high vaulted ceilings, the halls do not evoke cramped feelings, which are common in other cellar spaces; on the contrary, their majestic atmosphere has a calming effect on visitors.
The cellar had been closed to the public for many years. After reconstruction in the 1970s it was made ready as an air raid shelter for civilians, and hence practically kept secret. It was only after the social changes in the 1990s that it was opened up to visitors – first as part of a large happening, while later the National Heritage Institute placed an exhibition of torture justice here. The exhibition, which belonged more in a medieval castle, did not meet with great visitor acclaim, and the humid atmosphere soon left its mark on the exhibits, so the offer made by sculptor Olbram Zoubek to place a collection of his sculptures in these attractive spaces was welcomed. During the tour, you can use an audio guide, thanks to which the voice of the author himself will guide you through the exhibition. 
The permanent exhibition of sculptures by Olbram Zoubek was complemented by an object called "A Heart for Václav Havel" on 12 April 2014. The arrangement of the exposition was designed by the architect Josef Pleskot. He placed a glowing verse from the prologue of the Book of Ecclesiastes around the entire perimeter of a separate room, in the centre of which the Heart is placed. On a touch screen, visitors can view photographs depicting the origin of the Heart, several short videos with shots of the mourning and the creation of the Heart, and they can also browse through an interview with both authors of the Heart – Lukáš Gavlovský and Roman Švejda.
A unique variety of wines called Chateau Litomyšl is also stored for maturing in the climatically favourable environment of the castle cellars. The wines were produced by Moravian wineries in limited quantities only for this variety. Visitors can thus combine an exhibition viewing with wine sampling.
web: https://www.zameckesklepeni.cz/en/
coordinates
49.8732092, 16.3128206